GoXtreme®
Selfie Gimbal GS1
Foldable 1-Axis Selfie Gimbal with remote control and tripod
For selfies on smartphones and action cams
90° horizontal/vertical rotatable bracket
Anti-shake function
Automatic balance
Extendable to a length of up to 52cm
With tripod
Removable Bluetooth remote control

(for shutter release)

10m control distance
Compatible with smartphones and action cams up to 7 cm wide
Built-in 400mAh battery
Size when folded: 19 x 6,5 x 4 cm
Weight: 235g
INCLUDED ACCESSORIES
Gimbal with remote control
USB cable
Manual EN/DE (more languages for download)
TECHNICAL DATA / MANUAL
BUY NOW
Smooth and shake-free recordings

The GS1 is a 1-axis gimbal that combines three functions in one unit: it is an stabiliser with selfie stick, tripod and removable remote control.
This 3-in-1 functionality makes the GS1 the perfect gimbal for selfies.
The GS1 detects jerky movements and compensates for them directly. It helps you take high-quality, smooth and shake-free videos with your smartphone. And even with an action cam, the GS1 lets you take great selfie shots.
Selfie-Stick or tripod? It's your choice.
The smartphone is simply fixed in the holder and, if desired, connected to the gimbal via Bluetooth.
Please extand the Selfie Stick or use the GS1 as a tripod by unfolding the device handle and placing the tripod on it.
To fold the GS1, simply unscrew the folding screw: Folded up small, the GS1 can be stored quickly and easily at any time and taken anywhere.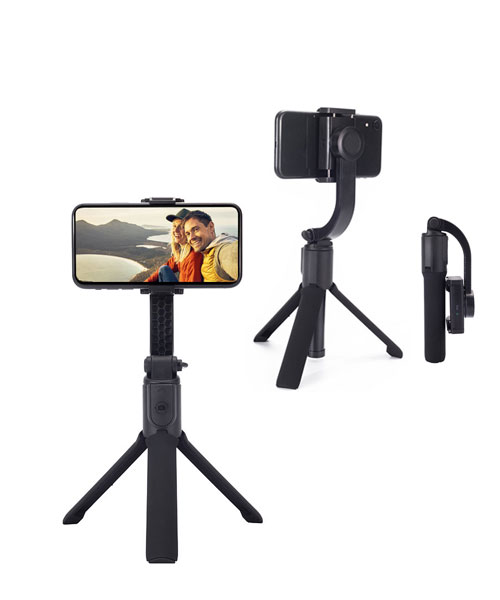 Removable remote control
If you connect your smartphone to the GS1 gimbal via Bluetooth, you can easily start your recordings by pressing the small button on the gimbal remote control.
The remote control can be used while it is attached to the handle, or it can be removed and used from a distance of up to 10m.
This is especially useful when using the GS1 as a tripod and want to move away from the unit.
PLEASE NOTE:
Smartphone/Action Cam not included.
Always make sure that your smartphone is first attached to the holder before you switch on the gimbal.
For best balance, always place the phone in the centre of the holder.