Real 4K Ultra HD Action Cam
4k @60/30/ 24
2.7k @60/30/ 24
1080p @120/60/30/ 24
720p @240/120/60/30/ 24

16M*, 14M*, 12M, 8M, 5M, 3M

12.3MP Sensor
Smooth Video (Enhanced Image Stabilization)**
Waterproof Case up to 40m
2.35″/5.9cm Touch Screen
Built-in Microphone
External Stereo Microphone included

170° Wide Angle

WiFi Function
Time Lapse Video & Time Lapse Photo
Continuous Shot
Bluetooth Remote Control
360° Base Mount

HDMI, USB Type C

Micro SD U3 card support up to 64GB (not included)
1180mAh lithium battery (exchangeable)
INCLUDED ACCESSORIES
360° Long & Short Base
External Stereo Microphone
Bluetooth Wrist Remote Control
Waterproof Case
Helmet Base
Bike Mount, Long & Short Joint Adaptors
Tripod/Monopod Adaptor
Battery
USB Cable
Manual
DOWNLOAD
APP
Buy now
GoXtreme Phantom: Ultimate 4K experience
Quality at the highest level, videos in real 4K with 60fps:
With the help of an ultra wide angle in 170° and a first class sensor the Phantom 4k is able to take lifelike pictures and fantastic pictures up to 16M. The Phantom's multiple setting options, including time-lapse, continuous shooting, color, and exposure, give you complete control over how you shoot.
The integrated 2.35″/5.9cm touch screen presents stunningly clear images and videos. With the WiFi module, you'll be able to quickly and easily share your recorded footage on social networks using a smartphone.
Thanks to a Bluetooth remote control, you can now control your camera from a distance and a microphone can be used via an external MIC port. With the new 360° base mount it is possible to rotate the camera completely around itself and take excellent pictures from any angle.
Smooth Video
The GoXtreme Phantom action cam can be used in all conditions and environments, where other cameras fail it shines even more. Many activities involve strong movements and violent vibrations to which the camera is exposed.
The Enhanced Image Stabilizer (EIS)** provides smooth shots and smooth images by helping you stabilize your videos.
Touch Screen & waterproof case up to 40m
The GoXtreme Phantom 4k has a waterproof housing of up to 40m. The comfortable 2.35″ (5.9cm) touch screen makes it possible to adjust the camera settings easily at any time and makes it easy to view the photos and videos taken.
170° Ultra wide angle
With the 170° ultra wide angle object, the GoXtreme Phantom 4k is capable of generously capturing your surroundings and your movements.
Accessories included – No extra costs!
At GoXtreme, we want to offer our customers maximum comfort – that's why each of our cameras comes with a wide range of mounts and accessories included at no extra cost.
External Stereo Microphone
The GoXtreme Phantom 4k has an external stereo microphone included. This allows you to capture all the sounds from your surroundings perfectly in your video.
360° Long & Short Base Mount
With the new 360° base mount, the camera only needs to be attached once and can then be adjusted to capture any angle. So you have a perfect panoramic view and you can capture yourself or your surroundings on a photo or video.
Bluetooth remote control
With the new Bluetooth remote control, you can control your camera from a distance. So you can quickly and easily switch the Phantom 4k on and off from a distance, as well as switch between video and photo mode.
WiFi connection:
Preview, sharing & full control
At the touch of a button, the integrated WiFi function makes it easy to connect to your samrtphone or tablet via a special app. This can be downloaded for free and makes your smartphone an easy and fast remote control for your camera. It also allows you to see a live view of your recording through your smartphone.
Easily upload your files from your camera to your smartphone or tablet – watch them or share them with your friends and the world via email or social media.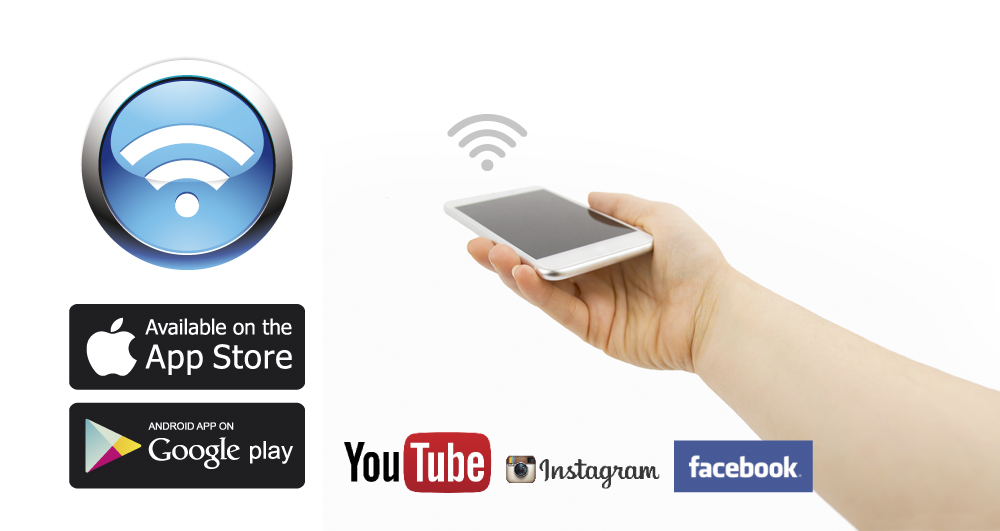 Great placing in the comparison test
In a direct comparison with the best action cams, the GoXtreme Phantom 4K did very well and took 3rd place, right after the two top action cams GoPro Hero7 Black and DJI Osmo Action!
Test (DE) >>
INSTRUCTIONS
Before placing in water, please ensure that all waterproof closures and seals on the camera and underwater housing are securely closed. After use, wash the housing with fresh water to clean of salt and chlorinated water and allow to dry.
To prevent the formation of condensation behind the lens, the camera should not be exposed to high temperature and humidity differences. The housing must be left open after use to prevent the formation of condensation and rust.
Recording times vary depending on the resolution. Battery life is dependent on settings and outside temperature – under optimum conditions up to 90 min.
Often MicroSD cards with a capacity larger than 32GB are pre-formatted by the manufacturer with the "exFAT" file system. It is therefore necessary to format the memory card in the camera before first use, as recommended in the instructions. Simply go to the "Settings" menu on your camera, navigate to the "Format" option and execute. Once the 'Format' is complete the card can be used normally.
*In this setting the recording is interpolated.
**For all video resolution except 4K 60fps, 1080p 120fps, 720p 240fps, 720p 120fps.
With the Smooth Video EIS function the shooting angle is reduced slightly for technical reasons.