3-Axis Gimbal for Smartphones and Action Cams
For Action Cams:
Size up to 6.5 x 4.5 x 2.7 cm, max. weight 140g
For Smartphones:
6 cm – 8.5 cm on narrow side, max. weight 250g
Tilt angle 330°
Roll angle 180°
Pan angle 330°
Powerbank built-in (4000mAh)
Bluetooth
Zoom function
Face-Tracking (via App)
Object-Tracking (via App)
Usage time up to 10-12 hours
Dimensions 10.8 x 7cm x 29 cm
460g weight
4000mAh battery built-in
Including protective travel hardcase
INCLUDED ACCESSORIES
Gimbal
Mini tripod
Protective travel hardcase
Adapter for action cams
Hand strap
USB cable
User manual English and German (more languages online)
TECHNICAL DATA / MANUAL
APP
Buy now
2-in-1: Smooth videos captured with action cam or smartphone

It's time for professional, smooth videos!
The 2-in-1 Dual Gimbal GX3 is an important tool for professional smartphone and action cam recordings.
Now you don't have to choose between your smartphone or your action cam: The Gimbal GX3 can be used with both – smartphones and action cams – thanks to the flexible adjustable mount and the included action cam adapter.
The GX3 is a 3-axis stabilizer and it provides the perfect balance and gets the best out of your videos and images.
3-Axis stabilization
The advanced 3-axis camera stabilization technology compensates movements fully automatically and efficiently in three directions while maintaining image stability at all times. Your smartphone or action cam is simply fixed in the holder or adapter and connected to the gimbal via Bluetooth.
The ergonomic handle is used for further operation. The joystick integrated in the handle, the intuitively arranged buttons and operating elements provide quick access and control of all important functions at any time. All movement axes can also be controlled via the joystick.
The GX3 has a tilt angle of 330°, a roll angle of 180° and a pan angle of 330°.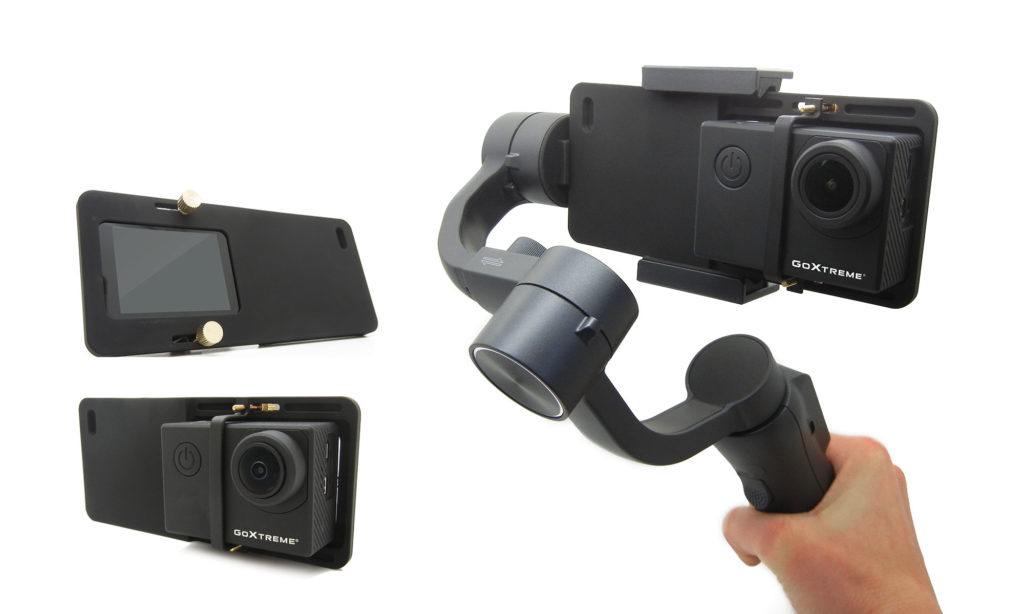 Top functions and top equipment
INSTRUCTIONS
Smartphone / Action Cam are not included!
Do not turn on the gimbal until you have correctly installed and adjusted your smartphone or action cam.
Adjusting the smartphone or action cam position during operation can cause damage!
Please charge the gimbal fully before using for the first time.
When mounting action cams please use the included action cam adapter.
The gimbal should only be used in temperatures from 0°C to 40°C.