Real 4K Ultra HD Action Cam
Video Resolution: 4k @60/30, 2.7k @30,
1080p @60/30, 720p @120/60
Photo Resolution: 20M*, 16M*, 14M*, 10M, 8M, 5M, 2M
12MP Sensor
Waterproof Case up to 30m
Dual Display:
1.3″/3.3cm Front Display
2″/5cm Touch Screen
Built-in Microphone
170° Wide Angle
WiFi Function
Time Lapse Video & Time Lapse Photo
Loop Video
Slow Motion
Fast Motion
Diving Mode
Driving Mode (Dashcam)
Burts Photo
Long Exposure
HDMI, USB 2.0
MicroMicro SD U3 card support up to 128GB (not included)
1050mAh Lithium Battery (exchangeable)
INCLUDED ACCESSORIES
Waterproof case
Wrist remote control
Frame mount
Tripod adapter
Monopod adapter
Helmet base
Bike mount
Long/short base
Long/short joint adapters
Battery
USB cable
User manual
TECHNICAL DATA / MANUAL
APP
Buy now
GoXtreme Vision DUO – Real 4K 30fps Videos

Crystal clear recordings – GoXtreme Vision DUO captures stunning videos with a resolution up to 4K 60fps. The variety of setting options including long exposure, time-lapse, loop video, slow and fast motion, diving and driving modes offer a comprehensive range of recording options to suit any type of action.
Dual Display:
1.3″ Front Display + 2.0″ Touch Screen
Optimum View Control:
Two screens on the GoXtreme Vision DUO ensure optimum viewing flexibility. The front 1.3″/3.3cm display is ideal for selfie shots – so you stay in field of view.
The 2"/5cm touch screen delivers intuitive use of all controls, allowing you to quickly and easily choose or adjust all necessary settings or view your photos and videos.
Wind Noise Reduction
High-quality recordings without wind noise:
The noise reduction function reduces the annoying wind noise in the videos to an acceptable level. This gives the recordings a professional result.
Remote Control and Mounts Included
A wide range of accessories and wrist remote included:
At GoXtreme we understand the value of giving you more and that's why every GoXtreme Action Cam includes a great selection of essential mounts and accessories right out of the box. GoXtreme Vision DUO includes also a wrist remote control and accessories for any kind of action.
Integrated WiFi Function
Preview and additional control via smartphone:
At the touch of a button, the integrated WiFi function allows you to connect the cam to your smartphone or tablet via an app. The app is available for download free of charge and it turns your smartphone into an additional remote control. This also enables a live view of the recordings.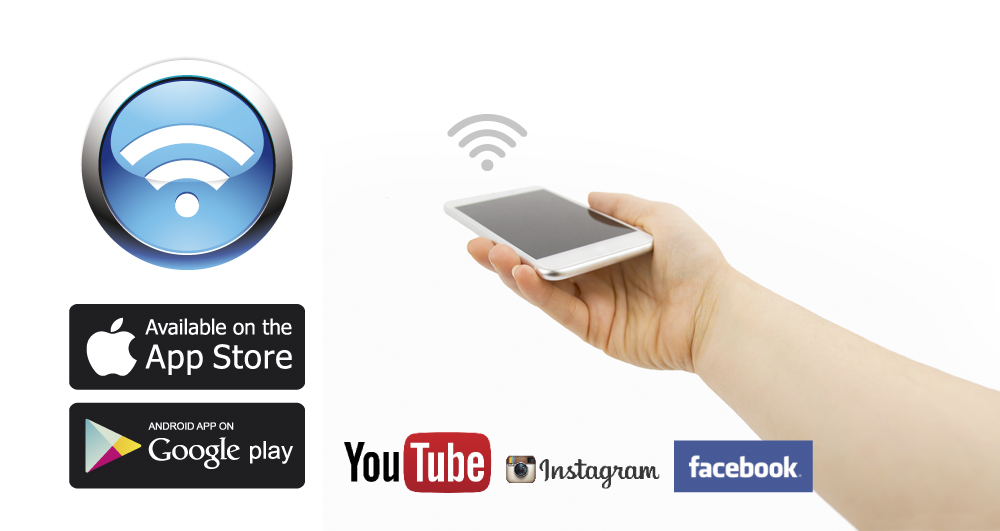 Waterproof up to 30m
Underwater Housing included:
GoXtreme Vision DUO has a robust, waterproof housing. The waterproof closures and seals of this housing keep your cam safely protected underwater – up to a depth of 30m.
Diving Mode and Dashcam Mode
GoXtreme Vision DUO offers additional recording flexibility thanks to the various modes.
The Diving Mode offers the advantage of colour correction when recording underwater at depths of between 1.5m and 10m.
When the camera is connected to a car charger (optional purchase) and set to Driving (Dashcam) Mode, recording starts automatically when the vehicle ignition is switched on. Recording stops and the files are automatically saved when the vehicles engine is switched off.
INSTRUCTIONS
Before placing in water, please ensure that all waterproof closures and seals on the camera and underwater housing are securely closed. After use, wash the housing with fresh water to clean of salt and chlorinated water and allow to dry.
To prevent the formation of condensation behind the lens, the camera should not be exposed to high temperature and humidity differences. The housing must be left open after use to prevent the formation of condensation and rust
Recording times vary depending on the resolution. Battery life is dependent on settings and outside temperature – under optimum conditions up to 60 min.
Often MicroSD cards with a capacity larger than 32GB are pre-formatted by the manufacturer with the "exFAT" file system. It is therefore necessary to format the memory card in the camera before first use, as recommended in the instructions. Simply go to the "Settings" menu on your camera, navigate to the "Format" option and execute. Once the 'Format' is complete the card can be used normally.
*In this setting the recording is interpolated