Foldable 3-Axis Gimbal
For Smartphones (with max. 9cm width)
Including tripod and protective pouch
Anti-shake function
Automatic balance
Quick horizontal/vertical switch
160° tilt angle
325° roll angle
340° pan angle
Bluetooth 5.0 function (for shutter release)
Zoom function (via App)
Face/object tracking (via app)
Load weight max. 280g
Battery life up to 4-4.5 hours
Charging time: approx. 3 hours
Dimensions: 26 x 13 x 8,8 cm / Folded: 15,2 x 11 x 4,6 cm
Weight: 348g
Built-in 2000mAh battery
INCLUDED ACCESSORIES
Gimbal
Tripod
Pouch
USB cable
Manual EN/DE (more languages for download)
TECHNICAL DATA / MANUAL
APP
BUY NOW
Make smooth videos with your smartphone

The GX2 Gimbal is an essential tool for smooth and professional smartphone shooting. It uses electronic sensors to detect jerky movements and shocks. The result is high-quality images without shaking.
Thanks to a Bluetooth connection with your smartphone, you can also start shooting directly from the GX2 Gimbal.
Once folded up, the device can simply be put in a pocket and taken anywhere.
With 3-axis stabilisation
With 3-axis camera stabilisation technology, movements are compensated fully automatically and efficiently in three directions, while the image remains stable at all times. The smartphone is simply fixed in the holder and, if desired, connected to the gimbal via Bluetooth.
Further operation is carried out using the ergonomic handle. With the touch of a thumb, the joystick integrated in the handle and the intuitively arranged buttons provide quick access and control of all important functions at all times. All movement axes are controlled via the joystick.
The GX2 Gimbal has a 160° tilt angle, a 325° roll angle and a 340° pan angle. The adjustable bracket allows you to shoot both portrait and landscape images with ease, while keeping the camera level and compensating for any movement.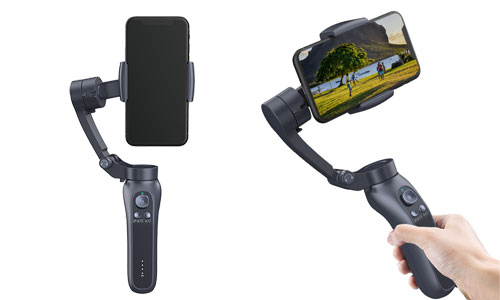 Foldable
Unscrew the folding screw, unlock the tilt axis and you can fold or unfold your GX2 gimbal.
This allows you to quickly and easily store the gimbal and take it with you wherever you go.
Top functions and top equipment
The GIMBAL PRO app has various additional functions for the GX2 such as face and object recognition, time-lapse, panorama shots and much more. All you need to do is connect the Gimbal to your smartphone via Bluetooth.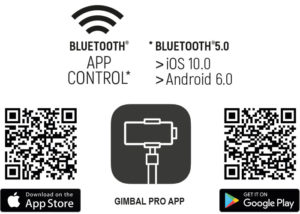 The GX2 gimbal comes with a stabiliser, a folding tripod, a protective bag and a USB cable.
(No smartphone included)
PLEASE NOTE:
Smartphone not included.
Do not switch on the gimbal until you have correctly installed your smartphone.
Changes in the position of the smartphone during operation may cause damage.
Make sure that the battery is fully charged before each use.
The gimbal should only be used in temperatures between 0°C and 40°C.