GoXtreme VR Glasses

360° full panorama for gaming, photos and videos
GoXtreme VR Glasses
fascinatingly simple – unforgettable magical – limitless rousing
Our new 360 ° cameras make it in conjunction with our virtual reality glasses now even easier to share your adventures with friends and family – even indescribable experiences are also for those who are not present, tangible. By using a panoramic camera can also be the most fantastic trips and spectacular stunts from every conceivable angle hold and share with friends and family – with the new Livestream Dome even in real time.
But not only others can experience as your tours and excursions – you yourselves can years later to return to your favorite places again. Discover the most exciting corner of the world again and again, and make your dream vacations truly memorable. Immerse yourself in this revolutionary photographic and video equipment and let yourself be enchanted by the limitless possibilities of Virtual Reality.
TECHNICAL SPECIFICATIONS
360° full panorama
For gaming, photos and videos
Two large, spherical lenses (diameter 40mm)
Viewing angle: 80 degree or wider
Compatible for 4″–6″ smartphones
Comfortable head holder
Dimensions: 20 x 10 x 14cm
Weight: 380g
USE INSTRUCTIONS

Please use your VR Glasses responsibly and do not use the product while moving, operating machinery or driving a vehicle.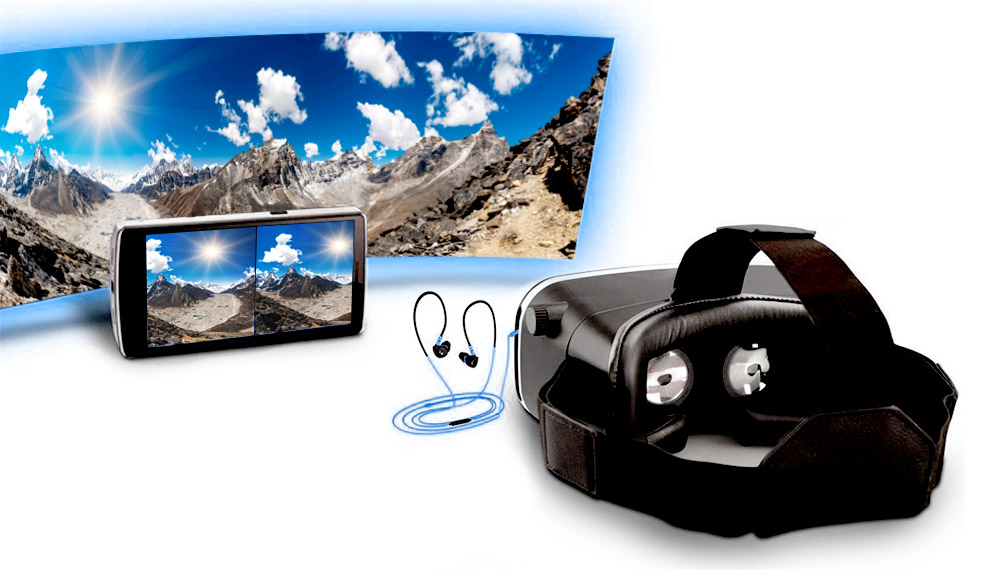 Fascinatingly simple
In order to film a 360 ° video, you need no special technical knowledge – with our panoramic cameras can be easily matched easily produce Panoramic views itself. Also the experience of Virtual Reality is simplicity: The VR goggles responds to your head movements and can be operated intuitively so.
Unforgettable magical
Thanks to VR you are now all possible perspectives open – you no longer have to get to decide whether you want to take pictures in front of the tower, the top of the Eiffel Tower or your family if the ceiling or the floor of the castle is impressive or whether it the mountains or the view want photographed the valley – just hold up your experience from all angles simultaneously determined.