Discover the world from a new perspective
The image field of a 360° cam catches every detail in all directions around you – you don't miss anything!

360° cams dispose of two panorama-objectives and facilitate a perfect panoramic view. Instead of being bound to a fixed picture section, you can choose any desired perspective when contemplating your images afterwards. This way you can re-live your adventures and even turn around in the picture just like in the real situation, exploring your environment in a new way each time – and perhaps even discover things you missed in the moment of the take.
The camera's 2 lenses film 2×220° in the horizontal and 2×360° in the vertical axis at the same time.
When you hold your 360° in your hand, the 220° refers to the horizontal level, meaning the surroundings on your right, left, behind and in front of you. The vertical axis is completely covered by the cam's 360° angle and films the floor you're standing on as well as the sky above you.
In order to create a real 360°-experience, the takes of both the lenses are afterwards automatically put together into one single photo- or video-file.
360° views on your smartphone and PC
Contemplate the world from the most centric perspective
When looking at a 360° photo or watching a 360° video, the viewer takes on the position of the camera in the moment of the take. He finds himself in the center of a sphere and is able to contemplate the sphere's inner wall which functions as a screen.
In this way, the viewer can turn to his left, right, front and back as well as to the top and bottom to discover the full picture.
Similar to a world map and a globe, the viewer can vary between several perspectives of his take.

View 1: Panorama – spherical panorama


View 2: Little Planet – representation in form of a globe


View 3: Virtual Reality – stereoscopic representation for VR-glasses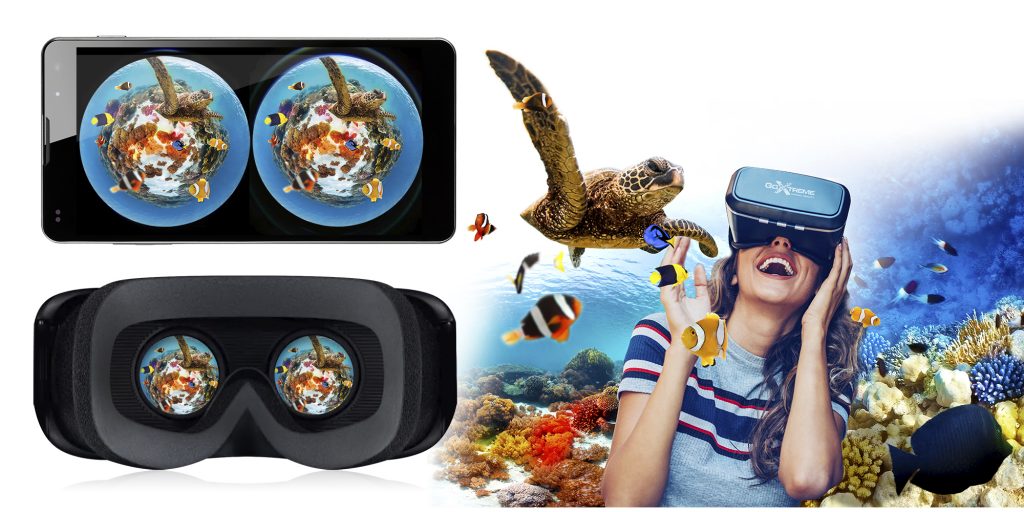 With additionally available VR-glasses, the viewer is able to steer the desired perspective only by moving his head.
On conventional computer screens, the perspective is controlled by moving the mouse or touchpad.
On smartphones and other touchscreens the viewer can turn around in the picture by using his finger.
Changing perspectives and portrayals afterwads
360°-videos can be edited just as conventional videos – but with greater freedom and a magnificent result!

When cutting the film, you can choose any desired perspective out of the filmed angles, instead of being bound to a fixed picture section.
What is more, you can also choose between the panoramic view and the so called 'Little-Planet'-representation, creating a different and new stunning visual experience each time you want to contemplate your 360° videos.