360° PHOTOS, VIDEOS, GAMES – FOR SMARTPHONES
GoXtreme VR Glasses: Discover the world from a new perspective
Thanks to 360° cams and our Virtual Reality-Glasses, it is now dead easy to share your adventures with your family and friends – unimaginable experiences can now be re-lived even by those who could not be there. You don't need any special technical knowledge to produce your own 360° video for the VR-representation — with 360° cams, the creation of self-made panoramic views is child's play. The angle of view of a 360° cam catches every detail in all directions around you.
And the best: Instead of being bound to a fixed picture section, you can choose any desired perspective when contemplating your images afterwards and perhaps even discover things you missed in the moment of the take.
TECHNICAL SPECIFICATIONS
360° full panorama
For gaming, photos and videos
Two large, spherical lenses (diameter 40mm)
Viewing angle: 80 degree or wider
Compatible for 4″–6″ smartphones
Comfortable head holder
Dimensions: 20 x 10 x 14cm
Weight: 380g
USE INSTRUCTIONS

Please use your VR Glasses responsibly and do not use the product while moving, operating machinery or driving a vehicle.
With VR-glasses the viewer is able to steer the desired perspective only by moving his head.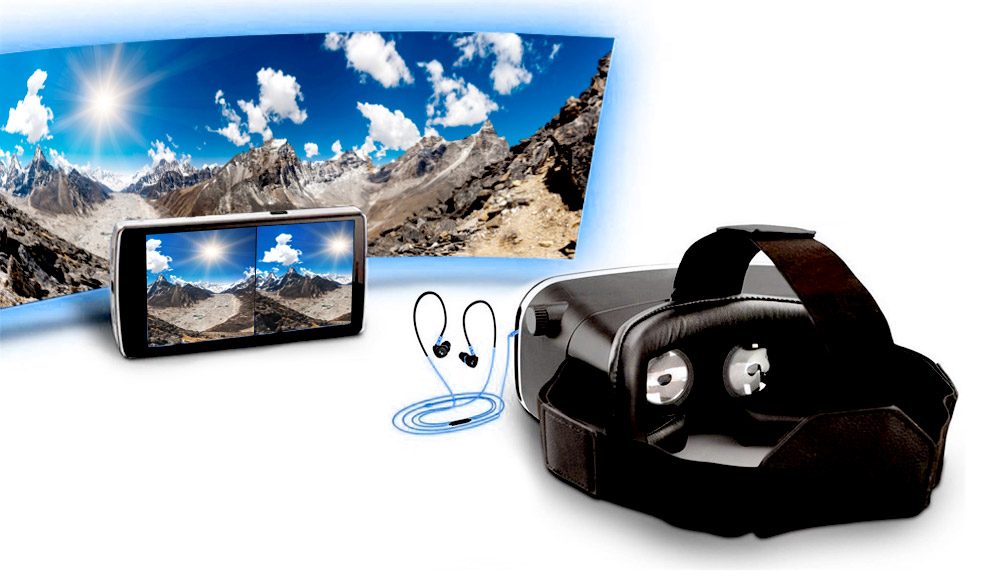 Stereoscopic representation of a video on a smartphone for VR-glasses: